My youngest son, still only 24 today, has had an incredible year this 2012… He has seen his dream come true last summer when he competed in the London Olympics. I'm not ashamed to say I had to wipe some tears from my face when he told me just before the summer he made the final selection for the Dutch national hockey team.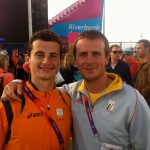 My oldest son had already been told he would go as a member of the Belgian coaching staff, so this would make the London Games a true family thing. Hockey is kind of a way of life in my family and our hockeyclub is as it were a part of the family or so it seems some times.
Aiming high…
We've all had our share of successes (and failures) on the field but he had set his goals pretty high. After some early successes for the Belgian youth teams he decided to use his double nationality and go for the Dutch national team. A team playing consistently in the top 3 worldwide and with some 230.000 players considerably more competition for a spot on the top compared to the 15.000 Belgian hockeyplayers at that time. He resisted the temptation to return to the Belgian team before and after the Beijing Olympics and worked hard to get noticed by the Dutch selectors and for years he came close, often missing out on the selection only by an inch… He missed out on several Champion's Trophies, two European Championships and a World Cup and the frustration grew, especially not making the cut for two major tournaments in less than a year before the Olympics. Were these efforts and sacrificies during all those years going to waste or…
Doing what it takes…
Whether or not he would have made it, I would have been proud on both the efforts and choices he made during these years, after all I am his father. But when push came to shove he was able to go the extra mile ensuring he would have done everything within his power to make the dream come true. It would have been easier to point the finger of blame into another direction but he took a good hard look at what had to be done and than gave it all he got and some more and was rewarded for this with a participation in the London Olympic Games.
On August 10 tears welled up again reading his facebook status about how he was about to play the game (the Olympic final) he had been dreaming about since he was a little kid… Dreams do come true… if you make them come true! And when they did (he won a silver Olympic medal), they are quickly replaced by new dreams… new goals… :)
Do one thing every day that scares you…

I started thinking about all of this reading a recent newspaper article (the old fashioned kind on paper) about him in light of the Champion's Trophy about to start in sunny Melbourne… And having this mind used to wandering off, it reminded me of the inspirational speech by Al Pacino's character in Any Given Sunday he used often to get the juices running before a game. Life's this game of inches… And his favorite inspirational speech led me to one of my favorites: Rocky Balboa in front of his son dispensing "his" wisdom… The world ain't all sunshine and rainbows…
However when it comes down to fatherly advice I think Baz Luhrmann's "Wear sunscreen" song comes closest to my take on things. I'll add all three videos below so you can make up your own mind. Enjoy !